Richardson, Turner awarded 2023 Justice Janie L. Shores Scholarships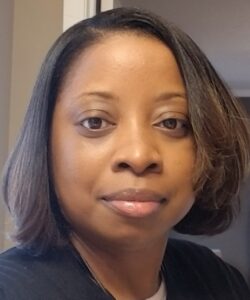 July 11, 2023 – (MONTGOMERY, Ala.) – Two outstanding law school students have been selected as recipients of the 2023 Justice Janie L. Shores Scholarships. The scholarship was established by the Women's Section of the Alabama State Bar in honor of the first female Alabama Supreme Court Justice and is administered annually with the assistance of the Alabama Law Foundation. The Justice Janie L. Shores Scholarship is awarded to one or more female Alabama residents attending an Alabama law school. Antionette V. Richardson is a student at Birmingham School of Law and Rolanda Tina Turner is a student at Samford University Cumberland School of Law. Each will receive $5,000 for their law school education.
"The Women's Section is proud to be able to award scholarships to deserving women law students in Alabama," said Jennifer B. Bates, Executive Director of the Birmingham Bar Association and Chair of the Women's Section. "Since 2008, we have been able to provide scholarships that have helped women realize their dreams of becoming attorneys. Our scholarship recipients have gone on to successful legal careers and are leaders in their communities. They truly reflect the spirit of the Women's Section and of the attorney after whom the scholarship is named, Justice Janie L. Shores, the first female Alabama Supreme Court Justice."
Richardson is currently employed with the Office of the Federal Public Defender – Northern District of Alabama as a paralegal, where she is responsible for drafting pleadings and organizing and reviewing discovery. She earned her undergraduate degree from Jacksonville State University, with a major in Criminal Justice. She juggles the responsibilities of working full-time and raising her two sons with attending law school.

"I am interested in helping my community, and I feel like working in the legal field is the way to do that," she said. "My kids are getting older, so I wanted to go ahead and do it," she said of pursuing her J.D. "I feel like I am already using my voice to help people, but by becoming a lawyer I can be even more effective."
Richardson plans to seek a position as Chief Deputy Clerk or Clerk of Court within the federal court system, and is interested in the areas of criminal law, family law, and mediation.
Turner participates on the Cumberland National Mediation Team, is President of the Cumberland Society of Arts, Vice President of the Cumberland Health & Wellness Society, and serves on the Career Development Advisory Board. Her honors include inclusion on the Dean's List, selection as a Merit Scholar and membership in Phi Alpha Delta. She is a recipient of the Stone/Parker Award.
Turner earned her undergraduate degree at the University of Alabama, where she majored in Political Science and Psychology. She is employed at Encompass Health as a Compliance Student Intern and SRS Acquiom Holdings LLC as a Law Intern. Turner envisions a career as a Corporate Lawyer who focuses on transactional matters involving data privacy and security, advising clients on corporate formation, contract negotiations, and strategic acquisitions. Her dream is to also create a non-profit organization to help at-risk young people.
"If there is one thing I believe, it is that a lawyer must be present in the courtroom, classroom, and community they represent to tackle injustice and inequality," Turner wrote in her scholarship application. "I am eager to take my passion and drive to the next level by becoming an attorney who serves and embraces individuals of every outlook and background."
The Alabama Law Foundation administers three law school scholarship funds to help the next generation of lawyers. They are the Justice Janie L. Shores Scholarship, the Cabaniss Johnston Scholarship and the W. Verbon Black Scholarship. Additionally, the Kids' Chance Scholarship Fund helps the children of injured workers attend college.
"Justice Janie L. Shores Scholarship recipients have the vision for growing the profession into the future and will help ensure access to justice remains within reach for all who need legal help," said Dawn Hathcock, Executive Director of the Alabama Law Foundation. "Providing scholarships to help students on their path to becoming a lawyer is one of the most rewarding things we do."
Scholarships are awarded annually. For applications and deadlines, visit our website.