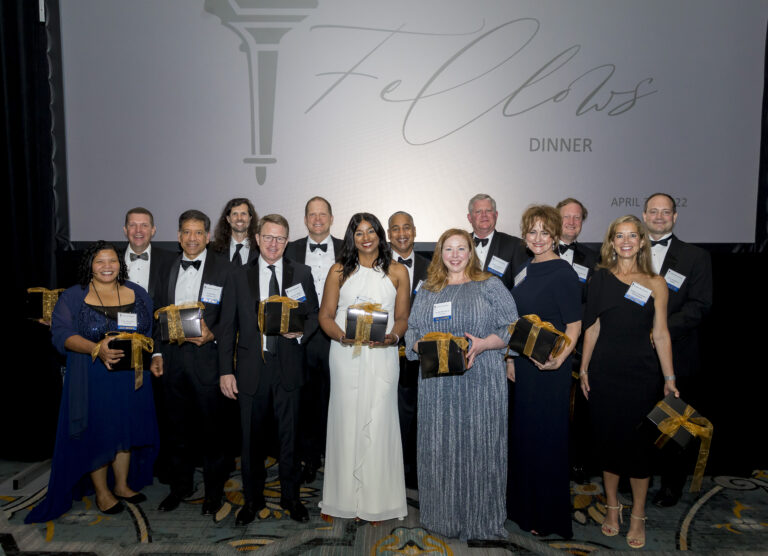 Alabama Law Foundation honors 2020 and 2021 Fellows
April 30, 2022 – (MONTGOMERY, Ala.) – The Alabama Law Foundation honored two groups of Fellows at its annual Fellows Dinner held April 30, 2022, in Montgomery, Alabama. For 35 years, as the only charitable, tax-exempt organization affiliated with the Alabama State Bar, the Alabama Law Foundation has helped the state's lawyers make a valuable difference in the lives of Alabama's citizens.
Fellows provide leadership and support for the Alabama Foundation's programs that promote access to justice. Each year the Alabama Law Foundation hosts the Fellows Dinner to acknowledge the service and commitment of the lawyers selected to join the foundation's Fellows Program and those elevated to "Life Fellows" status. This year's event honored Fellows selected in 2020 and 2021, as the dinner was suspended in 2020 due to the pandemic.
"The Alabama Law Foundation Fellows are a critical part of making possible the work we do to ensure legal services for those in need," said Dawn Hathcock, Executive Director of the Alabama Law Foundation. "Our supporters provide the foundation that allows us to assist organizations that provide free legal services for the poor, fund legal scholarships, and educate the public about the importance of equality under the law for everyone who needs representation. Lawyers are tasked to render service, and the Alabama Law Foundation provides and avenue to help."
Fellows accepted into membership for 2020 are: Joseph "Jay" H. Aughtman, Aughtman Law Firm;
The Hon. Robert "Bob" T. R. Bailey, Circuit Judge, 15th Judicial Circuit (Ret.); Christina M. Bolin, Christian & Small; Ann Y. Brown, Legal Services Alabama; The Hon. Ann L. Durward, Circuit Judge, 10th Circuit Court; Melody H. Eagan, Lightfoot Franklin & White; Christopher "Chris" J. England, Tuscaloosa City Attorney's Office; Adam K. Israel, Balch & Bingham; Edward R. Jackson, Jackson Fikes & Brakefield; Micheal "Mike" S. Jackson, Webster Henry Bradwell Cohan Speagle & DeShazo; Terri B. Lovell, Executive Director Alabama State Bar; The Hon. Anna M. Manasco, U.S. District Judge, Northern District; The Hon. Brady "Brad" E. Mendheim, Associate Justice, Alabama Supreme Court; The Hon. James "Jay" L. Mitchell, Associate Justice, Alabama Supreme Court; Joseph "Joey" A. Morris, Morris Cary Andrews Talmadge & Driggers; The Hon. P. Bradley Murray, U.S. Magistrate Judge, Southern District of Alabama; Rodney E. Nolen, Sirote & Permutt; R. Ashby Pate, Lightfoot Franklin & White: The Hon. Teresa T. Pulliam, Circuit Judge, 10th Judicial Circuit; John D. Saxon, University of Alabama School of Law; The Hon. Leon B. Smithart, Circuit Judge, 3rd Judicial Circuit; J. Theodore "Ted" Stuckenschneide, Law Offices of Ted Stuckenschneider; The Hon. Michelle M. Thomason, Circuit Judge, 28th Judicial Circuit; The Hon. William C. Thompson, Judge, Alabama Court of Civil Appeals; and Michael B. Walls, Upchurch Watson White & Max.
Fellows accepted into membership for 2021 are: Joseph P.H. Babington, Helmsing Leach Herlong Newman & Rouse; John N. Bolus, Maynard Cooper & Gale; John A. Brinkley, Jr., Brinkley & Brinkley; Brannon J. Buck, Badham & Buck; Angela R. Debro, Alabama A&M University; J. Mark Debro, Grace Matthews & Debro; William L. Haynes, Rushton Stakely Johnston & Garrett; Frederick G. Helmsing, Jr., McDowell Knight Roedder & Sledge; The Hon. Jennifer H. Henderson, U.S. Bankruptcy Court, Northern District of Alabama, Western Division; James A. Hoover, Burr & Forman; Joe Leak, Leak Douglas & Morano; Hope L. Marshall, White Arnold & Dowd; Hon. Carol C. Medley, 11th Judicial Circuit, District Court; R. Cliff Mendheim, Prim & Mendheim; Anil Mujumdar, University of Alabama School of Law; Senator Arthur W. Orr, Alabama State Senate, District 3; Patrick W. Sefton, Sasser Sefton & Brown; John A. Smyth, III, Maynard Cooper & Gayle; Martha L. Thompson, Balch & Bingham; and Ricardo A. Woods, Burr & Forman.
No more than 1% of Bar members may become Fellows; therefore, the selection committee invites into fellowship an exceptional group of lawyers who have demonstrated their dedication to improving their communities and state. The Alabama Law Foundation established the Fellows program in 1995. The Charter Fellows were past presidents of the Alabama State Bar and the Alabama Law Foundation.
Visit the Fellows Program page of our website for more information.